Flowently's language training brought this company's staff closer together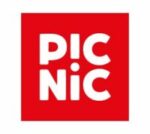 International teams
More and more companies in the Netherlands are attracting IT talent from all over the world. This is a great adventure for everyone involved and it is crucial that international employees get to feel at home in the Netherlands. In addition, it is important that communication between Dutch and international employees runs smoothly. And: how do you build a team in times of hybrid working?
Team building through language training
Picnic, the first online-only supermarket in the Netherlands, found a practical solution: Dutch language courses as an informal way to get to know other colleagues as well as the language and the country. Four years ago, Flowently started teaching two groups and now language training takes place all year round: eight groups per week on different levels. New staff can join at any level. Has a group successfully completed a test? Then it's time for a party at Picnic: celebrate your successes!
Would you also like a coffee… uhm… online?
At Flowently, Picnic's international employees learn practical Dutch skills to navigate situations in daily life: a chat with a colleague at the coffee machine or ordering and paying in a restaurant – hello, good morning, how are you? The online language courses also have an interactive 'learning by doing' approach and the participants learn fun ways to put what they have learned into practice. This helps them to better understand what is happening around them and 'join the conversation'.
Business English
Despite the fact that Picnic has many Dutch employees and that the Dutch language is used, the company's official language is English. Many people have good knowledge of English, but how do you feel when you suddenly have to email, call, negotiate or give instructions or a pitch in English? Flowently offers programs to help employees improve their Business English. Also, don't underestimate the importance of small talk or chit-chatting – how do you do that in English? And how good and how intelligible is the English of your colleagues from other parts of the world? What opportunities for better business results might lie here?
Everything under one roof
But Flowently offers much more. Do you want to pass your civic integration exam? Flowently prepares you for this language test. Or take part in an Intercultural Awareness Workshop for an introduction to Dutch history, geography and culture and become aware of your own and others' subconscious preferences. Flowently does not only teach Dutch and English: all languages are offered and there are customized programs for individuals and groups. We are also proud of our latest language product: VR learning for English and Business English. Learn intensively, creatively and quickly through total involvement. More on this soon.