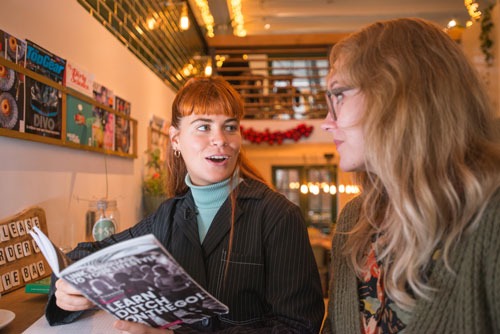 Maybe you need to learn Dutch for your work, or you are moving to the Netherlands, or you have fallen in love with a Dutch person, or maybe you just always fancied getting your tongue round some quite frankly unpronounceable words and incomprehensible expressions? Whatever your reason is for wanting to learn Dutch, you may be struggling with how to best go about it. Here we show you a few simple steps to stay comfortable while learning Dutch.
 GET IN THE HABIT OF LISTENING
Some people say that to really learn a language, you have to first get the hand of the sounds and rhythms of it. A great way to do that is to listen to foreign radio programmes, and watch foreign films or TV programmes (with or without subtitles). Find a Dutch-language channel on your TV, or buy a Dutch DVD that will help you how to learn Dutch. It may be learning while driving to work in the car or on the bus, it may be in the park after lunch, or it may be with the kids after school, or pick up conversations around you. The options are endless.
 UNLEASH YOUR INNER CHILD
One reason kids so often pick up a new language without seemingly having to study hard, is that they are not afraid of making mistakes, unlike many adults. Allow yourself to think in simple sentences – in your own language first – and see how you can communicate this in Dutch, and get started speaking Dutch. Consider yourself playing a new role, playing games and using apps like Duolingo, that will help you in your quest on how to learn Dutch.
THINGS YOU WOULD DO ANYWAY
If you have a hobby, sport or favourite pastime, see if you can get involved in it using Dutch. This can include anything from setting yourself a challenge to cook for a month only using Dutch cookbooks, attend a yoga class or painting course given in Dutch, or working alongside others in a garden. Doing something you know and love will relax you and you will soon pick up the words for things you know in your new language.
LAST BUT NOT LEAST, GET YOUR OWN TUTOR
According to experts, nothing beats learning a language by being immersed in it and actively participating. If you want to know how to learn Dutch, investigate the various options available through Flowently. With one-on-one (or two) sessions in your local area or skype classes anywhere, you will be able to learn Dutch regardless of the fact if you are a complete novice, want to get some more experience or need to increase your vocabulary for work. Forget boring classroom lessons and instead meet your tutor in the local café or during a walk through the city, or even meet at your office if time is tight!
Remember, the main thing about learning Dutch – or any other language – is to find the level of language that suits your lifestyle and needs. You don't need to learn the whole dictionary off by heart. And once you get the basics sorted, you will find you keep learning without even noticing it. So; Link language to your lifestyle!