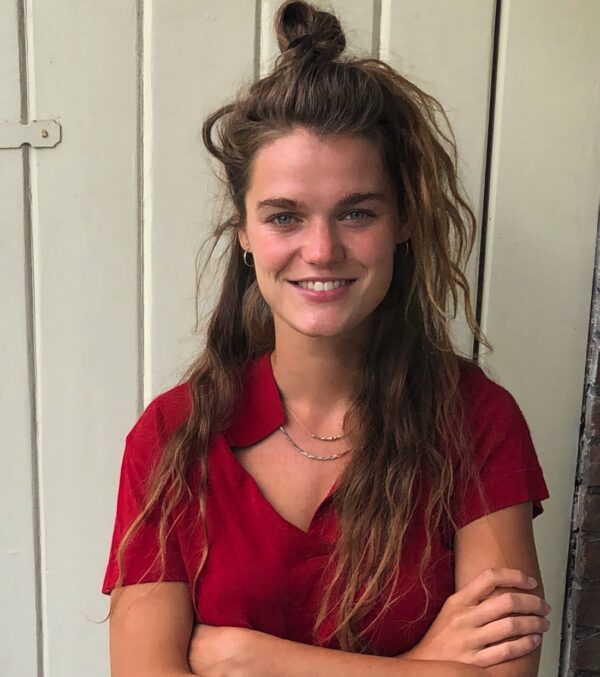 Target Languages:
Dutch
Available Bridge Languages:
English
Spanish
Available Cities:
Amstelveen
Amsterdam
Available Sessions:
Art Community
Cafe / Terrace
City Tour
Events / Workshops
Expat Life
Grammar and Exams
Innovation Platform
Job Training Interview
Session for Children
Shopping Trip
Skype Session
Social Conversational Dutch
Society / History / Politics
Sport / Outdoor Buddy
Welcome Session
Back
Renée de Rooij
BACKGROUND: Master Sociology: Migration and Ethnic Studies
*Hatsjikidee!* My Flemish boyfriend laughed for a long time after my father used this word, along with expressions like 'ben je nou betoeterd?' (are you crazy now?) and: 'hier heb ik geen kaas van gegeten' (I have not eaten cheese about this, meaning: I do not understand it), which are all great typical Dutch expressions.
ME
Born and raised in Amsterdam, I can be your personal guide and tutor in one. Being a big fan of language, expressions and metaphors, we will have a good time learning the harsh (literally and figuratively) Dutch language . Either you are a beginner, or you already have some experience, I can make the language yours. Let's do this along with some nice walks around the city, or some visits to interesting spots in my (and now your) hometown.
STUDIES
I am currently studying Sociology, with the specialisation: Migration and Ethnic studies. The framing of refugees, the sources of racism and the difficulties of integration are among my particular interests.
I KNOW how annoying it could be
I have been in Peru, where everyone around me spoke Spanish, but I didn't. Untill at one point, I understood most of what everyone was saying, but I was just too slow to contribute to the conversation. I can relate to how frustrating it might get, if you are not able to respond, although you do understand. By doing it together, you will get comfortable with the tools to do it on your own as well.
Some of the things I like to do:
– cooking, playing saxophone, writing stories
– bouldering, surfing, snowboarding
– going to galleries and museums
– walking in nature, or along the streets of Amsterdam
Let's get together and then hopefully, at the end of these weeks, you will say: 'ik heb hier wel kaas van gegeten'.
(=I dó understand it now)
See tutor's availability and book tutor
Please note that the time you will select is the starting time of your session.