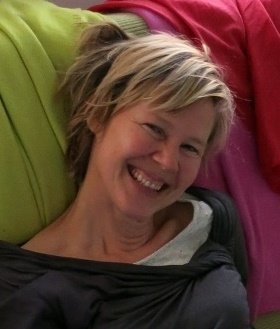 Target Languages:
Dutch
Swedish
Available Bridge Languages:
English
Greek
Swedish
Available Cities:
Amsterdam
Available Sessions:
Art Community
Cafe / Terrace
City Tour
Events / Workshops
Expat Life
Session for Children
Shopping Trip
Skype Session
Social Conversational Dutch
Society / History / Politics
Sport / Outdoor Buddy
Welcome Session
Back
Oona Bergvik
BACKGROUND: Artist, artteacher, pedagogical employee, cook, gardener, translater, tourguide, stage designer
Hi, I am an artist and art teacher. I also write, translate and have experience with guided tours. I have worked a lot with children.
About 30 years ago I came to Amsterdam from Stockholm, fell in love with the city and stayed. I forbade my friends to talk English with me and pretended to understand more than I did. I remember the frustration of not being able to understand or tell a joke. Not taking real part in a normal conversation or discussion, not being able to express yourself the way you wanted to. Not daring to try. The most important thing to do if you want to understand a new country is to learn its language! And to learn this way, 'on the go', is fun!
I'd love to go to the museum or a gallery with you, to talk art. To go to the market, buy some groceries and make a lunch at my house, close to the market, all in Dutch of course! Or just wandering about in the city, going to a flea market, a vintage shop, the flower market, historical buildings, eat a haring or have coffee and apple pie… So many things are possible, we'll find out on the way what suits you best.
I'd love to be the one to help you learning Dutch and find your way around, all in in a playful, joyful way, costume made, but still very serious because you do want to learn!
See tutor's availability and book tutor
Please note that the time you will select is the starting time of your session.