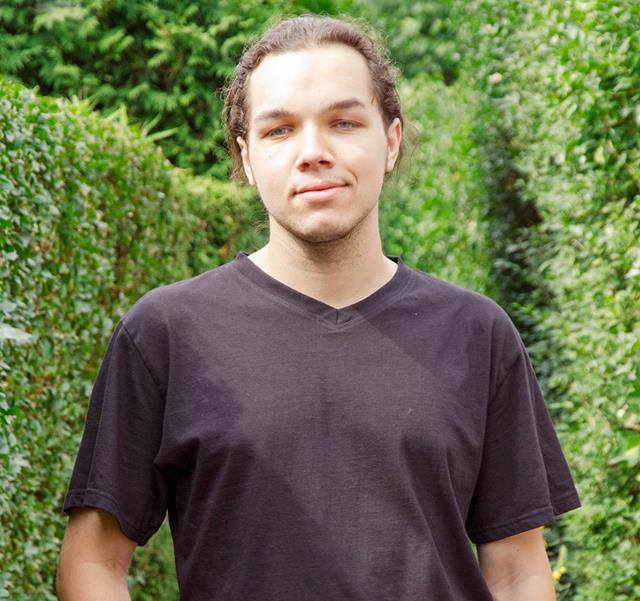 Target Languages:
Dutch
English
Available Bridge Languages:
English
Available Cities:
Nijmegen
Available Sessions:
Art Community
Cafe / Terrace
City Tour
Expat Life
Job Training Interview
Session for Children
Shopping Trip
Skype Session
Social Conversational Dutch
Society / History / Politics
Sport / Outdoor Buddy
Welcome Session
Back
Natchai Leenders
Hi! My name's Natchai and I'm from Nijmegen, the oldest city in the Netherlands.
I've studied American Studies and have worked as a translator, editor, and even as a Mad Scientist and a scare actor. Recently, I've worked as an actor/entertainer in Park Tivoli, an amusement park in Berg & Dal near Nijmegen.
In addition, I write poetry and play keyboards in a metal band.
I also love to teach people new skills and languages. It doesn't matter if you wanna talk about 'koetjes en kalfjes' (figurative: small talk), Nijmegen, (pop) culture or anything else, I'll do my very best so we can find the right words together.
3 things you don't know about me:
1. People say I make good cricket sounds.
2. I'm enthusiastic about everything that has to do with professional wrestling.
3. Once a month, I play Dungeons & Dragons with my friends to play heroes in a fantasy story.
See tutor's availability and book tutor
Please note that the time you will select is the starting time of your session.
Only logged in customers who have purchased this product may leave a review.