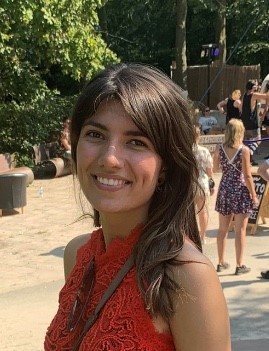 Target Languages:
Dutch
Available Bridge Languages:
Dutch
English
Available Cities:
Amstelveen
Amsterdam
Available Sessions:
Art Community
Cafe / Terrace
City Tour
Events / Workshops
Grammar and Exams
Job Training Interview
Session for Children
Shopping Trip
Skype Session
Social Conversational Dutch
Sport / Outdoor Buddy
Welcome Session
Back
Jelena Los
BACKGROUND: Future Planet Studies
Hi there! It is great that you have registered with Flowently to learn Dutch. My name is Jelena and I currently study Future Planet Studies at the University of Amsterdam. This study focuses on sustainability and climate, these are topics that interest me a lot. I'd love to talk about other topics like culture, society and sports too.
I was raised bilingual (I am half Serbian) and I have experienced that you learn a language best by speaking it regularly. I signed up as a tutor to Flowently to give students the opportunity to get in touch with locals and to make them feel comfortable speaking Dutch. Because of my experience with the Serbian language, I can imagine that learning a new language is not easy, but I know that anyone can do it.
I think it would be nice to meet you soon, so we can discover the Dutch language together in a way that suits you best.
Tot gauw!
Jelena
See tutor's availability and book tutor
Please note that the time you will select is the starting time of your session.