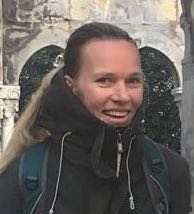 Target Languages:
Dutch
Available Bridge Languages:
English
Available Cities:
Amsterdam
Available Sessions:
Art Community
Business
Cafe / Terrace
City Tour
Events / Workshops
Expat Life
Innovation Platform
Session for Children
Shopping Trip
Skype Session
Social Conversational Dutch
Society / History / Politics
Sport / Outdoor Buddy
Welcome Session
Back
Carolien Wissing
BACKGROUND: Artist / Traveller
Hi there!
My name is Carolien and I'm an artist working and living in our beautiful Amsterdam! I studied architecture at the academy of Fine Arts. Architecture still plays a role in my paintings but with a more philosophical approach. I love to work with dedication on my paintings, but I also love to be outdoors to explore new places and people. That's why I previously have lived and worked in South America, Asia, New York and I know what it is like to struggle with a language.. I believe the best way to learn a new language is to practise in real life, make mistakes and have a laugh about it! And I would love to help you with it. We can meet at a museum for instance and have a talk about art, or we can catch up at Artis, having a conversation while we take a stroll in the park. (I have a Museumjaarkaart and a Artis pass ? We can also meet in a cafe, Vondelpark or anywhere you feel comfortable.
Hope to hear from you!
Cheers,
Carolien
See tutor's availability and book tutor
Please note that the time you will select is the starting time of your session.
Only logged in students who had sessions with this tutor may leave a review.