Flowently Private Training
General Terms and Conditions 
For consumers for private training and education Flowently applies the terms and conditions of the NRTO; Algemene Voorwaarden voor Particulier Onderwijs en Opleidingen van de NRTO. You can download
For consumers (private individuals), Flowently applies the NRTO's General Conditions for Private Education and Training.
NRTO Quality Mark
Flowently conforms to the NRTO's Code of Ethics and Business Conduct and the NRTO Code of Conduct for Consumers. The NRTO quality mark: recognition for quality and professionalism. Flowently has obtained the NRTO quality mark. This hallmark is a recognition for quality and professionalism in the private training sector. The NRTO quality mark guarantees a high quality standards in terms of transparacy regarding products and services, adequate service provision, professional contact with customers and expertise of staff. As a result, this is what customers can expect from Flowently and its services. An independent third party certification body assesses whether a supplier meets the quality requirements. The NRTO quality mark is then issued by the Dutch Council for Training and Education (NRTO), the trade association for private trainers. For more information, see www.nrto.nl/keurmerk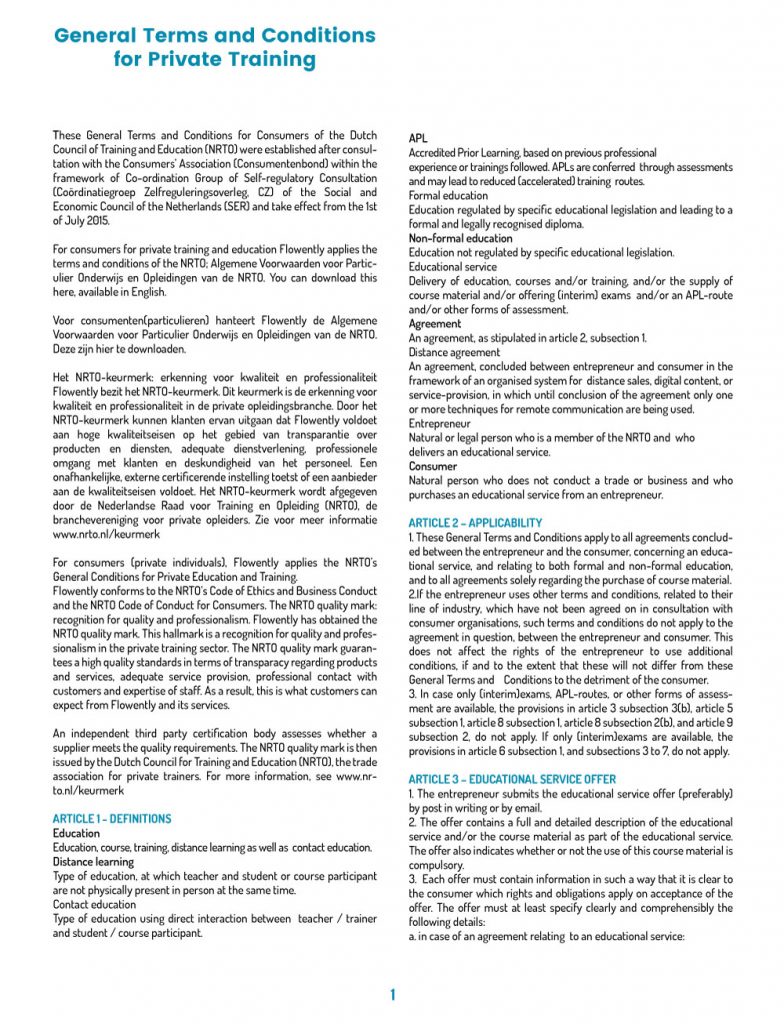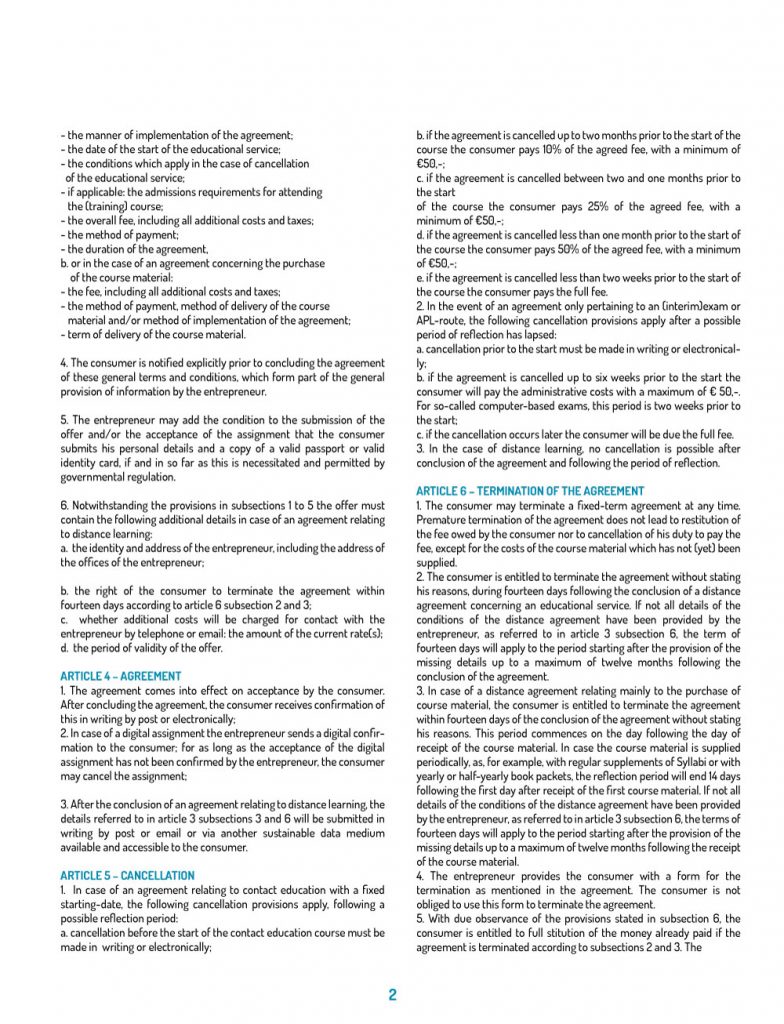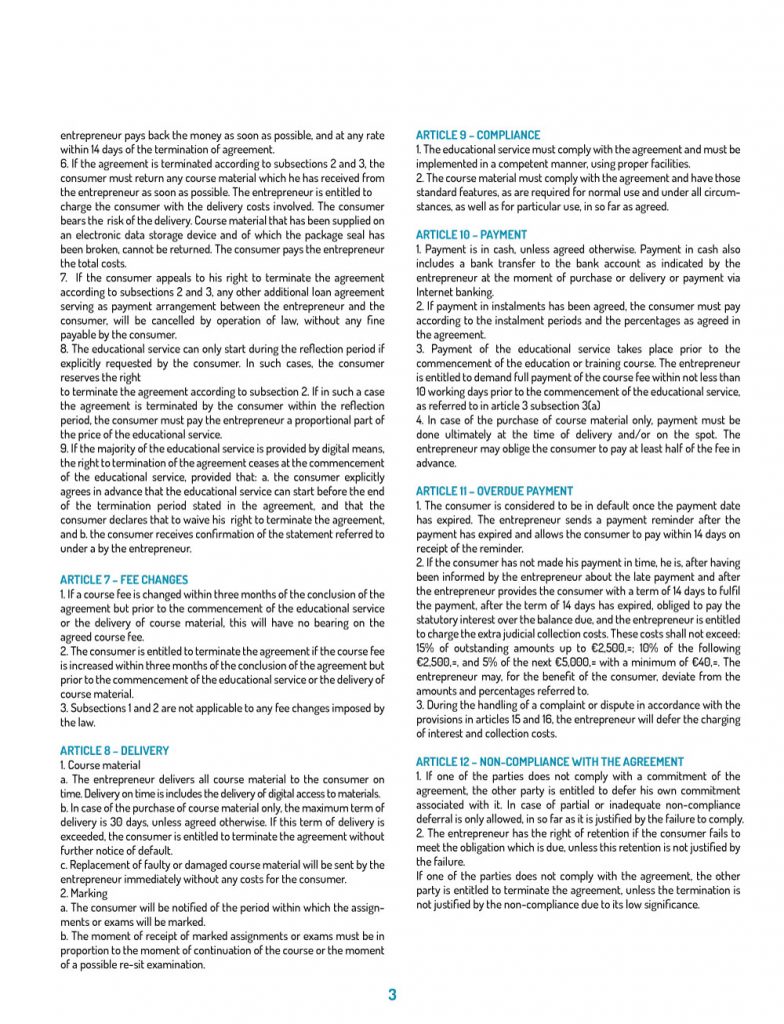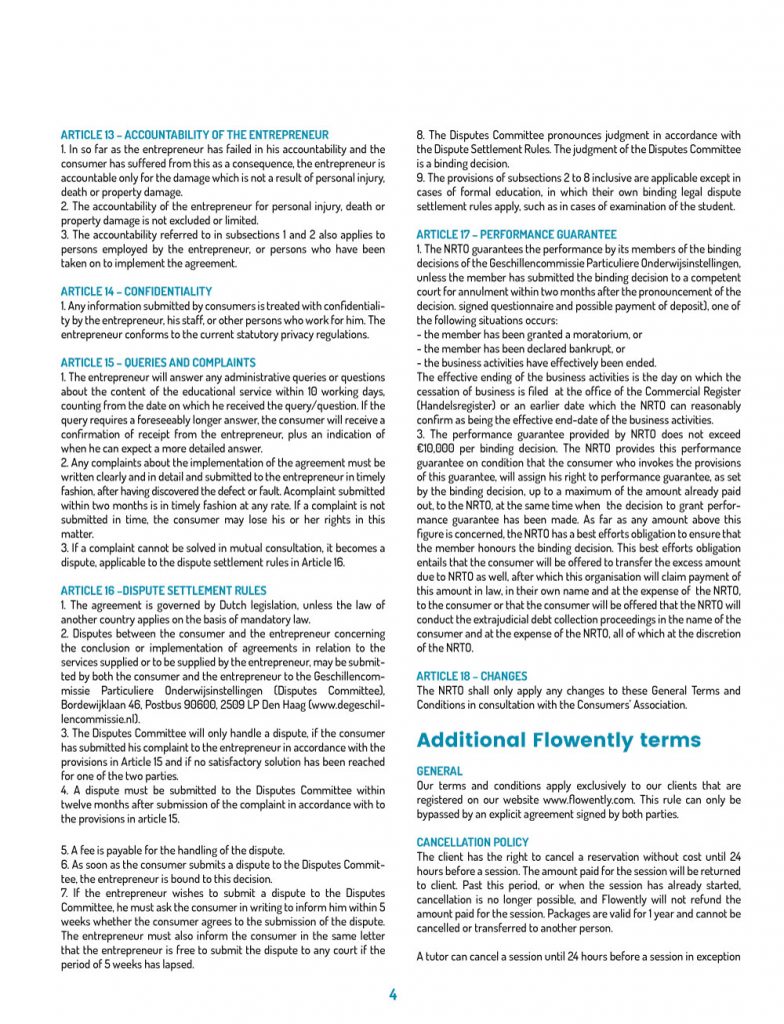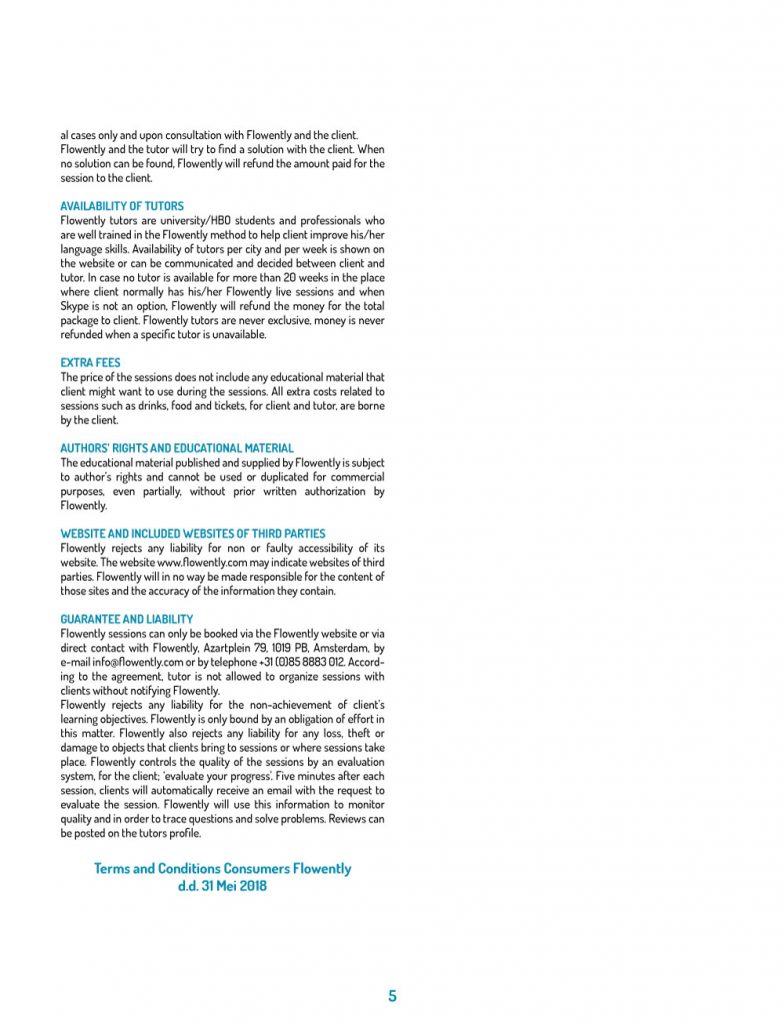 Flowently Training
General terms & conditions of sale-regulations
1. THE COMPANY FLOWENTLY
Office address: Azartplein 79, 1019 PB Amsterdam, The Netherlands
Telephone: +31 (0)85 8883 012
Website: www.flowently.com
E­mail address: info@flowently.com
Company registration Kamer van Koophandel Amsterdam 34149671
2. GENERAL
Our general terms and conditions are applicable exclusively as of the company's enrolment. No exceptions may be made to these rules except by express written agreement, signed by both parties.
3. PAYMENT TERMS
For companies, the invoice will be issued upon receipt of the purchase order. Invoices to companies are payable within a delay of 30 days as from the first lesson. All FLOWENTLY packages, for private training and in-company training are valid for 1 year.
4. PRICES
The rate of the offer will remain valid during 3 months as from the offer date. After this period of time, the lessons can be subject to a price increase.
5. IN-COMPANY LESSONS
In-company lessons will be held on the days and at the times determined by FLOWENTLY and may under no circumstances be reimbursed. Lessons cannot be postponed, unless in agreement with FLOWENTLY. Lessons falling on a public holiday will be brought forward. If the minimum number of participants for a group lesson is not reached, an alternative solution can be proposed. In the interests of learners, FLOWENTY may withdraw or merge some classes if the number of participants is too low or, alternatively, split them if numbers are too high. FLOWENTLY may also transfer a learner to another class if this is more commensurate with his or her level.
6. TEACHERS
In order to habituate learners to a variety of pronunciations, teachers may be changed.
7. COMPLAINTS PROCEDURE
Complaint procedure: all complaints need to be submitted in writing via info@flowently.comwithin 48 hours a confirmation receipt will be sent. It is FLOWENTLY'S policy to finalize the complaint entirely within 4 weeks after the initial complaint. All complaints will be dealt with in a confidential manner.
Any disputes resulting from or relating to execution of this agreement will be settled by the competent judge of the Amsterdam region. Dutch law applies to all judical actions with or by Flowently.The judgment of this third party is final and binding. Each complaint and the method in which it was handled will be registered and filed for a duration of 10 years.
8. DATA PROTECTION
Client information will be filed in the internal files of Flowently in conformity with legal provisions, in order to inform clients about future sessions and special news that might be of interest to them. Clients who prefer not to be informed, are requested to communicate this to Flowently by e-mail info@flowently.com
9. AUTHORS' RIGHTS AND EDUCATIONAL MATERIAL
The educational material published and supplied by Flowently is subject to author's rights and cannot be used or duplicated for commercial purposes, even partially, without prior written authorization by Flowently.
10. WEBSITE AND INCLUDED WEBSITES OF THIRD PARTIES
Flowently rejects any liability for non or faulty accessibility of its website. The website www.flowently.com may indicate websites of third parties. Flowently will in no way be made responsible for the content of those sites and the accuracy of the information they contain.
GENERAL CONDITIONS DEC 2016