What does Flowently offer?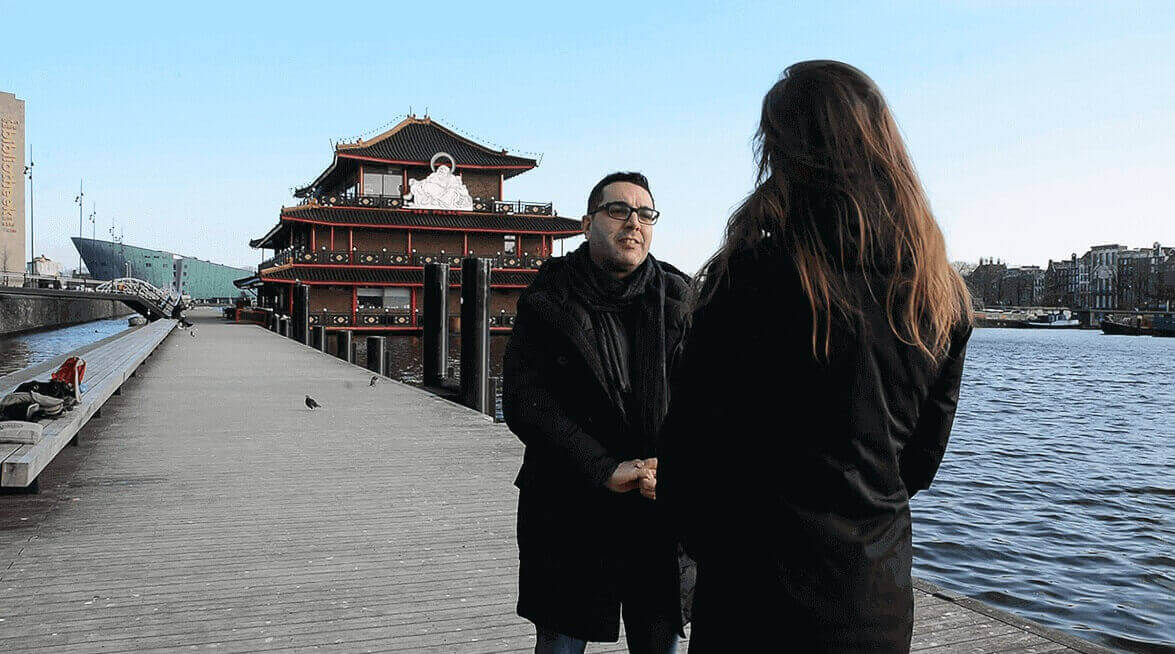 The types of sessions Flowently offers
Don't expect boring class rooms. The best way to learn a language is in everyday environments with a private tutor. Meet up with your Flowently tutor in town or online, anywhere and anytime you want.
Learn more about our in-company sessions
Does your company have employees from other parts of the world that you recruited to acquire skills and qualities you need for your business? Are you happy that they came to work for you? Would you be even happier if they stayed?
Qualified Flowently tutors
Flowently tutors are highly educated local experts. Do you work in IT, marketing, or as a psychologist or yoga teacher? Head over to the list of topics we offer, start your filter and find a tutor who matches your criteria. Do you want to achieve specific language goals or would you like to improve your social conversation skills? All Flowently tutors passed the Flowently Tutor Training and are eager to help you achieve your language goals.
Develop your own learning program
How do I create my own learning program? You can choose live or online sessions, or a combination of both. Start your filter by selecting a type of session. Find a  tutor based on your criteria and together you can discuss your language goals and create a program tailored to your needs. Not sure about your level or how to start? Let us help you find a tutor or take our free language level check!
Choose a type of session

Pick the type of session that suits you, live or online.

Pick a language & topic

You can learn anything you like. Check our list of topics and languages.

Enjoy your session

Meet up with your tutor in town or online and learn a language the fun way!
Pick a location
Pick a location where you would like your live session to take place.
Choose a topic
You can learn anything you like. Check our list of topics for inspiration.
Enjoy your session
Meet up with your tutor in town or online and learn a language the fun way!
Why choose Flowently?
With Flowently you will learn to navigate daily life and blend into local culture. Over 200 tutors available in 100 cities.
Learning by doing in real life
Speak like a local with a private tutor
Create a learning session that fits you
Customised flexibility, live and online
Available 7 days a week, 8AM – 10PM
Start your Flowently adventure!
Step 1: Find a tutor that matches your criteria
Go to 'Find A Tutor', select your preferences and find a tutor who matches your criteria. You can book sessions with just one tutor or with multiple tutors, as you like. Contact us please, if you need help finding a tutor.
After each session you will receive an email to review your session. We use all feedback to guard quality of our sessions.
Step 2: Book your session
Create your account and buy your Flowently credits to book your session. We kindly ask you to book 48 hours in advance. You can buy a single session or a discount package. All Flowently credits and packages are valid for one year.
Do you want to study with a friend? We offer 50% discount for the second student. The person who will make the bookings needs to register only.
1 hour for 1 person = 1 Flowently credit
1 hour for 2 people = 1,5 Flowently credits (50% discount!)
Step 3: Confirmation booking
Within 48 hours, your tutor will confirm your booking and contact you to discuss details about content, location and exact time for your session. In case the tutor does not contact you within 48 hours, your session will be cancelled automatically and your credits will be refunded. You can now make a new booking with another tutor or contact us and we will help you find a good match.
You can cancel your booking up to 24 hours in advance without any costs. If you cancel later, Flowently will charge the full amount.
The magic phrase of the day:
This is a little incentive to keep you in the flow, learning a little Dutch every day. Each issue features a very common 'magic phrase or word' that will help you to start sounding like you were born in The Netherlands. You should try to use that phrase/word as many times as you can on the day you read it, although this is not recommended for all phrases (!) Check the emoticon for emotional value and impact of your Magic Phrase.
Find out what our students think of Flowently
Find a Flowently tutor near you
Meet our tutors! Highly specialised areas of language are covered by our enthusiastic team. We kindly ask you to book 48 hrs in advance. Please note, extra costs related to sessions for student and tutor, such as drinks and tickets, are borne by the student. Please contact us if you need help finding a tutor.