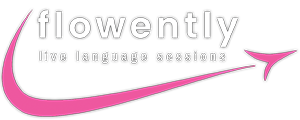 LEARN PAPIAMENTU ON THE GO!
MEET THE LOCALS & HAVE FUN
Are you moving to the Caribbean to live or work there?
The islands Aruba, Curaçao and Bonaire have a special history that is reflected in their language Papiamentu. You might think everyone in the Caribbean can speak Dutch, Spanish or English, but locals consider these as foreign languages. So, if you really want to merge with the island language and culture and feel home it makes sense to learn Papiamentu on the go!
Link language to your lifestyle!
LEARN PAPIAMENTU ON THE GO
Why Papiamentu on the go? Flowently offers, in cooperation with the Akademia Papiamentu, live language and Skype sessions in Papiamentu. Many foreign professionals who move to the island will do a 3-months course Papiamentu. This, however, isn't enough to truly learn the language. After a few months you might be able to understand some Papiamentu, but if you need effective interacting as a teacher, social or healthcare worker you will need more practical training. And this is where Flowently comes in. Our tutors will help you learn and speak Papiamentu. You can learn Papiamentu by exploring daily life situations; practical and tailored to your needs. In the Netherlands we work together with Fundashon SPLIKA.
Contact us for information.
BUY PAPIAMENTU SESSIONS OF YOUR CHOICE
Are you a beginner or do you want to improve your Papiamentu conversational and grammar
skills? This 12-hour package will boost your skills through Skype or live language sessions.
Do whatever suits you, whenever suits you! The package is valid for one year.
REGULAR PAPIAMENTU SESSIONS
Totally new to Papiamentu? Build your confidence for basic everyday conversations with our 30-
hour package including Skype or real-life sessions. Learn about your interests with a
personal tutor of your choice. The package is valid for one year.
PAPIAMENTU SESSIONS INTENSIVE
Struggling to get your Papiamentu to a professional level for study or work? Do you want to be able to speak and understand Papiamentu in all situations? With our 60-hour package you will get all the hands-on experience you need through Skype or live language sessions. Social and academic levels available. The package is valid for one year.
DOUBLE PAPIAMENTU , DOUBLE FUN & DISCOUNT
DISCOUNT PACKAGES FOR 2, BRING A FRIEND!
€ 24,50 per person per hour

REGULAR PAPIAMENTU SESSIONS
PAPIAMENTU SESSIONS INTENSIVE
LEARN PAPIAMENTU
WORLDWIDE
Do you want to make a good start on the islands? Are you going to the Caribbean for work or business?Are you a tourist, a traveller or a language lover? You can learn the basics of Papiamentu pronunciation and conversation in a few Skype sessions. Book a Skype session and learn exactly what you need to know. Skype connection on the islands is very good as long as there is no tropical storm. Make sure you check the time differences when you book your session.
LEARN PAPIAMENTU
IN BONAIRE
In Bonaire you can learn Papiamentu with our Flowently experts, who offer conversational training at all levels and for all language goals. Meet your tutor in a terrace in Kralendijk or Rincon, and line out your session over a cool drink. You can go shopping, go for a walk along the Kaya, go bird watching, explore the island and learn Papiamentu as you go.
Are you an entrepreneur running your own business? Meet up with a tutor and learn Papiamentu related to your type of business. Learn useful vocabulary and useful information about the Caribbean style of doing business. We offer special sessions for parents and children, so your child can make new friends and be happy! For students who have come to Bonaire for their internship, we offer live language session for 2, 3 or 4 students. Go where the locals go and have fun! We are working on spreading our tutor network in the other islands; soon you can learn Papiamentu on the go in Aruba and Curaçao as well.
HOW DOES IT WORK?
Sign up with our website, download your free Ebook. Select a city, type of session, special topic, bridge language and find a tutor of your choice. Check availability in the online calendar and book a session. Your tutor will contact you asap, after which you can pay for your session online. All live sessions start in a local cafe where you meet your tutor and line out your session together over a cup of coffee.